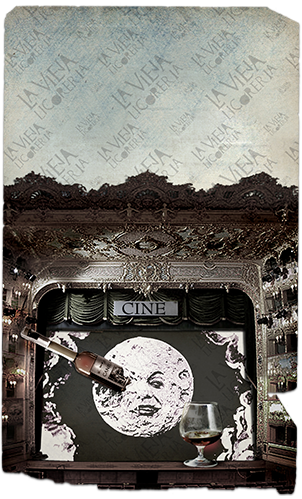 We live in a world of suggested emotions. It has been a century of visual culture. Cinema feeds on images turned icons;
– Fiery whiskies from crepuscular Westerns; or those terribly lonely Bogart whiskies at Rick's Café.
– Chardonnay and ravings on Schopenhauer in Woody Allen's New York apartments.
– Absinthes of Renoir's précieux cinema or of the flaming paintings of that crazy red-head, the tormented and brilliant Van Gogh interpreted by Kirk Douglas
– Those Martinis of La Dolce Vita, of still shades of blue surrounding the isle of Capri.
– And Champagne,… oh! Champagne. The perfume of a glass of champagne permeating hundreds of movies.
At La Vieja Licoreria we would like to take you on a journey to a higher appreciation of our liqueurs, through some of our most beloved movies.
We wish our liqueurs to be a culminating element of that small everyday pleasure of sitting in front of the screen, in the warm half-light of your living room.
We propose the following cinematic combinations, always open to your suggestions.